PD 540/540G Directing Forensics
Directing the Middle or High School Speech and Debate Program
Not Being Offered in Summer 2018
The Course
This course seeks to serve the needs of those secondary school educators and co-curricular advisors who have been assigned the responsibility of supervising an interscholastic speech and debate program at the middle school or high school level.  In this course students will explore basic topics related to the pedagogy of forensics, the management of forensics programs, and the professional issues associated with the role of a forensics coach/director.  Discussion of Theatre, mock trial, and related programs is included.
The Content
This 8-week, fully-online course includes content on a range of topics of interest to the new director, as well as new insights for directors with more experience.  For new directors who have plenty of competitive background, the course is designed to bring new insights into questions of philosophy, pedagogy, and organizational management.
The Advantages
The course has a number of features that should be attractive to new, as well as experienced, coaches and directors:
The course is fully online and asynchronous.  Students can log-on at their convenience to complete course content on a flexible schedule.
The course is eight-weeks long, offered in the summer and fall.
The price is astoundingly affordable.  NFHS members pay the same discounted rate whether they are undergraduate or graduate students, in-state or out-of-state.  The result is discounts ranging from around $100 to as much as $900, depending on your state and degree level.
The course is rich in multimedia content, including interviews conducted with officials from NFHS, the National Speech and Debate Association, the Educational Theatre Association, select state association directors, and nationally respected coaches and forensics leaders.
Significant time is devoted to essential pedagogical concepts of forensics that can be applied to all activities, and used to justify program budgets and decisions.
Specific units are devoted to the essentials of instruction in debate, public address events, theatrical and interpretation events and activities, and related activities such as mock trial.
Entire modules of the course are devoted to important management topics such as legal liability, hotel contracts, parental relations, public relations, and tournament management.
The course is designed to link to existing resources from the NSDA, NFHS, and EdTA so that new coaches and directors can learn both from the course, and from the organizations of which they will be a part.
There are no textbooks to buy.  Participants will have complete access to the reading materials they need online.
The Instructor
Dr. Kevin Minch, is a Professor of Communication and Associate Provost at Truman State University.  Prior to assuming his current role he was Truman's Director of Forensics for 10 years, leading a program that encompassed the full range of individual events and two genres of debate.  He briefly returned as Director during the team's 2014-2015 season during a leadership transition.  During his tenure students captured multiple national championships, and Truman was the only program to earn two national parliamentary debate championships on unanimous decisions.  He currently volunteers as a National Federation of State High School Associations College Advisor.
NFHS/NSDA Discount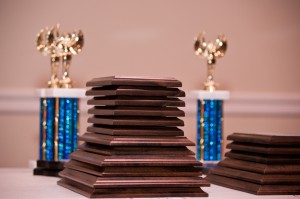 As part of a special agreement negotiated between Truman State University and the National Federation of State High School Associations (NFHS), NFHS members are eligible for a substantial discount on tuition for this course.  This agreement erases the distinction between undergraduate and graduate, as well as in-state and out-of-state enrollments.  All verified NFHS members pay a tuition rate of $230 per credit hour* ($690 for the course) plus a $30 online course fee.  By comparison, the current credit hour rate for an undergraduate, in-state student is $282.  In-state graduate students pay $316.50.  Out-of-state students pay $513.00 (undergraduate) and $543 (graduate).  For an out-of-state, graduate level student, the $25 NFHS membership fee translates to a $914 in savings!  Plus, there are no textbooks to buy!
Not currently an NFHS member?  Visit the NFHS's membership page to join or renew.  For more information on membership benefits of the NFHS Speech, Debate, and Theatre Association, click here.  Among other benefits, NFHS membership confers $1 million in excess liability coverage for coaches interacting with students.
The National Speech and Debate Association (formerly NFL) also participates in this discount agreement.
*Note:  Currently-matriculated Truman State University students, regardless of NFHS membership, are not eligible for this discount.
Registration
Registration for summer courses opens in mid-April.  This course is only offered during the summer term.
Current Truman students can simply register for the undiscounted sections of the course like they do their other courses. Current Truman Students who wish to enroll in a discounted section of this course must contact the Institute for Academic Outreach at institute@truman.edu or 660-785-5384 and verify their membership in either the NSDA (NFL) or NFHS.
Those who are not current students at Truman State University will need to apply.
Non-degree-seeking application – for those who just want to take a course or two but are not interested in pursuing an entire degree program.
Once a student's non-degree seeking application has been submitted and reviewed, a member of the Truman Institute's staff will manually register the student in the section of the course indicated on the application and send them an email containing instructions for paying the tuition, logging in to the course, etc.
Application for full admission – for those interested in pursuing an entire degree program.
Students who are members of the NFHS Speech, Debate, and Theatre Association will be asked to provide a copy of their current membership card, their membership number, or their name and state as it would appear on the NFHS membership roster, so that we can verify eligibility.
If you have any questions, please contact the Institute for Academic Outreach at (660) 785-5384 or at institute@truman.edu. 
Advisory:  Each state has different laws applying to the ability of out-of-state providers to offer online courses within their borders.  Non-Missouri residents can take courses if they are from one of the states that participates in NC-SARA (State Authorization Reciprocity Agreements).  Visit here to see if your State currently participates.